Support the School of Dance at the Mason Dance Fête
Witness the power and resilience of dance as the Mason Company takes the stage for this year's Gala Performance Concert.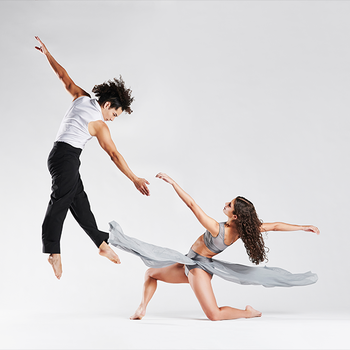 The Mason Dance Fête features an exclusive, pre-performance event for sponsors and donors. With an inside-look at the School of Dance, the evening is a special celebration of the excellence, resiliency, and legacy of the School of Dance. Proceeds from the event support School of Dance student scholarships. To find out more, contact the CVPA Development Team at 703-993-1593.
Registration
Reserve your sponsorship or tickets today.
The Fête will be followed by the School of Dance Gala Performance Concert. The 2023 program will feature Awakening by Robert Battle, Variation 10 by Rafael Bonachela, Double Octet by Doug Varone, Black & White by Manuel Vignoulle.
Turn a Dream into Reality
Mason's School of Dance is rapidly emerging as one of the premier modern dance programs nationwide. Students studying dance at Mason experience a distinctive combination of conservatory-style training and the challenge of studying at an esteemed public research university. 
Highly talented students are taught by high-caliber faculty and have access to today's most distinguished choreographers and dancers through master classes and visiting artists programs.
To advance this vital and life-changing work, the School of Dance seeks to deepen its investment in places, programs, and people.
Here are a few ways your investment can make a difference:
Provide support for the facilities our dancers need to succeed. Specifically, a Dance Performance Lab is needed.
Give toward ongoing program and performance support, ensuring that our dancers have the resources on stage and off to develop their artistry.
Endow a faculty chair or fellowship, ensuring that top-notch faculty and visiting artists are working with our students.
Fund a scholarship so that a talented student has every opportunity to attend George Mason University.
Giving Levels
Contributor: $25-$99
Friend: $100-$199
Patron: $200 - $499
Benefactor: $500 - $999
Commissioner: $1,000+
All donors receive newsletters, season brochures and recognition in the Gala Concert program.