Join us each Spring in supporting and celebrating Mason's School of Dance!
---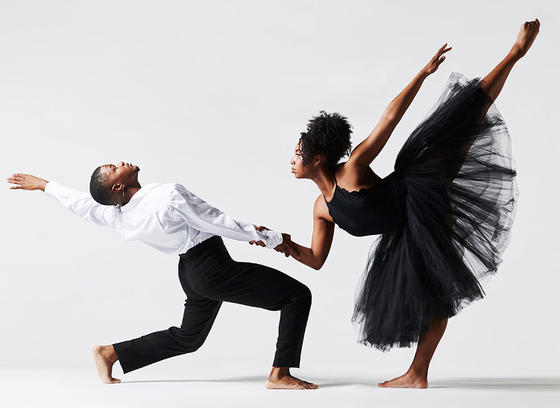 An Inside-the-Studio Celebration
Benefiting Student Scholarships
deLaski Performing Arts Building
Each year this annual event funds critically needed scholarships. Sponsorships and other donations invest in the next generation of professional dancers, choreographers, arts administrators, and dance educators. The  evening features discussions and demonstrations, food and beverage, and culminates in attending the Dance Gala Concert performance. 
Sponsorships begin at $550 and include recognition benefits and a charitable donation to support Dance student scholarships
Individual Tickets are $125
School of Dance Alumni and Current Parents tickets are available at cost ($90).
For more information, call Amanda Snellings at 703-993-1593.
---
Sponsorship Opportunities
All sponsorships include:
Invitations to special School of Dance rehearsals and events year-round
Access to the Friends of Dance e-newsletter
Recognition at the event, on the event website, in Center for the Arts program, and on the School of Dance website
Platinum Sponsor - $10,000 ($1,150 in benefits)
Tickets for ten (10) guests to the event and performance

Recognition on the electronic save the date* and print invitation**
Gold Sponsor - $5,000 ($920 in benefits)
Tickets for eight (8) guests to the event and performance

Recognition on the electronic save the date* and print invitation**
Silver Sponsor - $2,500 ($690 in benefits)
Tickets for six (6) guests to the event and performance

Recognition on the electronic save the date* and print invitation**
Bronze Sponsor - $1,000 ($460 in benefits)
Tickets for four (4) guests to the event and performance

Recognition on the electronic save the date* and print invitation**
Benefactor Sponsor - $550 ($230 in benefits)
Tickets for two (2) guests to the event and performance

Recognition on the print invitation**
---
Thank you to our 2023 Dance Fête Sponsors
Platinum Sponsors
Dr. Peter N. Stearns and Ms. Donna L. Kidd
​Gold Sponsor
George Mason University Foundation
Silver Sponsors
Helen and Bill Ackerman
Michael Brown and Elizabeth "Buffy" Price
Dr. Kimberly K. Eby and Dr. José M. Cortina
Consortium of Universities of the Washington Metropolitan Area and Andrew and Jennifer Flagel
Julia G. Morelli and Daniel Rainey
Bronze Sponsors
Anne and John Bolger
Zofia Burr 
Dr. Rick Davis and Ms. Julie Thompson
Steven Golsch & Jim Nedohon
Mr. Kevin M. Lastorino and Dr. Denise Kitay
Linda and Buford Lewis
Evans and Trish Mandes
Dr. Carol C. Mattusch and Dr. Richard S. Mason, in memory of Harriet C. Mattusch
The Honorable J. Chapman Petersen and Sharon Kim Petersen
Dr. Victoria N. Salmon and Mr. John J. Salmon
Benefactor
Peter and Lenore Farrell
Virginia McGehee Friend
Mark R. Ginsberg and Elaine A. Anderson
Art and Linda Hamerschlag
Pamela Matthews
Linda and Phillip Miller
Don and Sonja Palomaki
Karen J. Reedy
Louise Shelley
Mark and Merrill Shugoll
Maura and Ed Weiner
Dr. Adam Winsler and Kathy Preisinger
Mary and Ed Zigo