The School of Dance at George Mason University offers FREE Dance for Parkinson's Disease (Dance for PD®) classes on our Fairfax campus.
Friday, March 3rd 1:00-2:15 PM
Friday, March 10th 1:00-2:15 PM 
Friday, March 17th  1:00-2:15 PM 
Friday, March 24th 1:00-2:15 PM 
Friday, March 31st 1:00-2:15 PM
Friday, April 7th 1:00-2:15 PM 
Friday, April 14th 1:00-2:15 PM 
Friday, April 21st 1:00-2:15 PM 
Lucy Bowen McCauley will be leading the classes offered at George Mason this spring.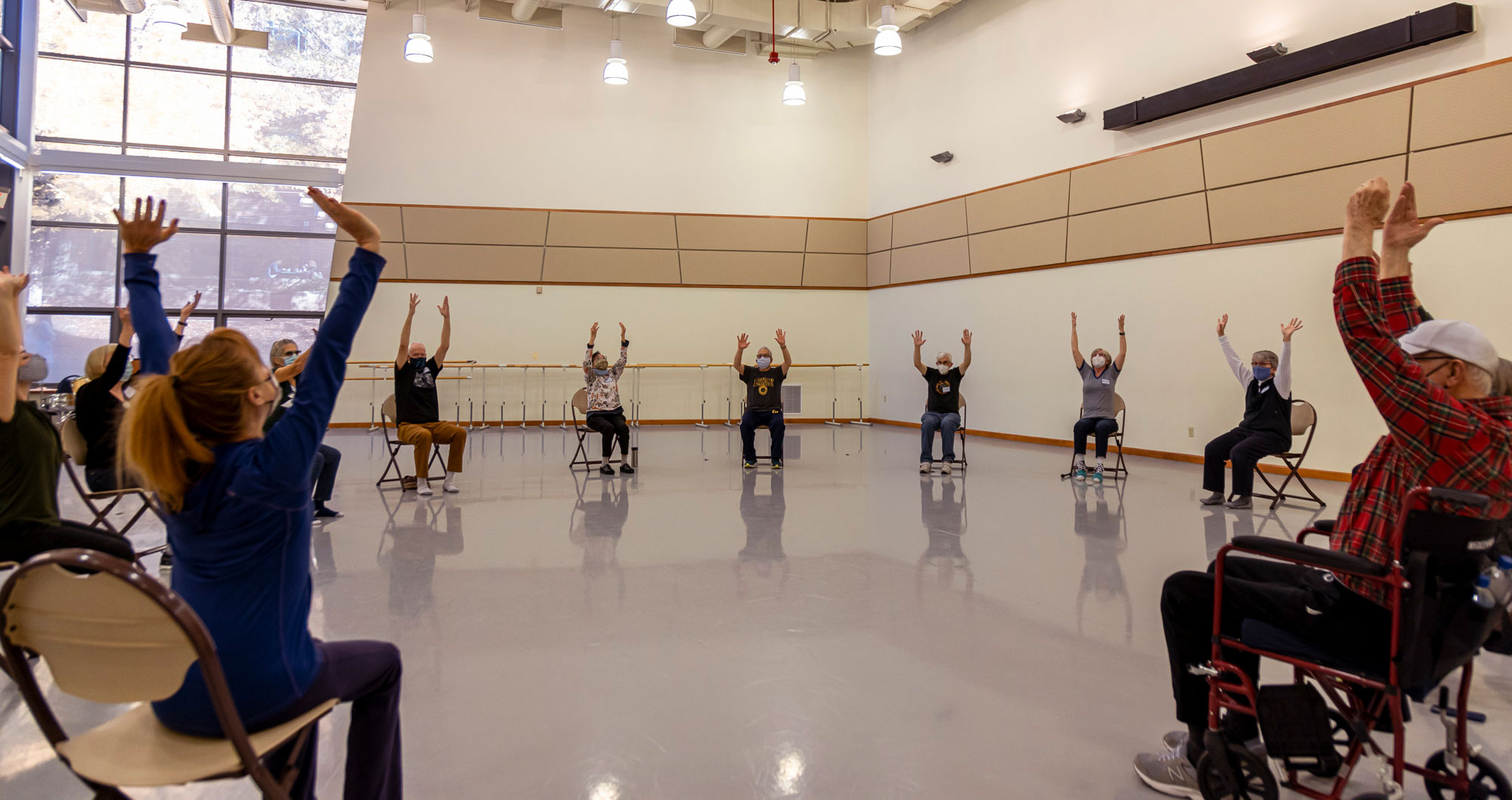 This program is a continuation of the work offered by Bowen McCauley Dance Company (BMDC), the award-winning contemporary dance company who closed out its 25th and final season at The Kennedy Center on September 14, 2021.
Dance for PD is a movement-based class that begins slowly with warm-up movements and progresses to combinations of movements to a variety of uplifting music. The class offers not only physical benefits, but also reduces the dancers' social isolation which is commonly associated with this neurological disease.
Lucy Bowen has been leading Dance for PD classes for thirteen years. BMDC is the only Dance Company that is a licensed affiliate of the Mark Morris Dance Group's researched-backed Dance for PD program in the Mid-Atlantic region. Participants are empowered to explore movement and music, during which participants report a decrease in physical symptoms and improved psychological and emotional benefits. Since 2008, BMDC has served over 900 people living with Parkinson's as part of the program.
Please consider helping the success of the program by giving today.
About Dance for PD®
Dance for PD® offers internationally-acclaimed, research-backed dance classes for people with Parkinson's disease online, in New York City, and through a network of partners and associates in more than 300 other communities in 25 countries. In Dance for PD® classes, participants are empowered to explore movement and music in ways that are refreshing, enjoyable, stimulating and creative. Dance for PD® provides comprehensive teacher training and certification, creates innovative instructional media, and nurtures relationships among other organizations so that classes based on our model are widely available. Evidence from more than 40 peer-reviewed scientific studies serves to underpin the effectiveness and benefits of the Dance for PD teaching approach. The program has been featured in such media channels as The New York Times, USA Today, NBC, CNN, NPR, and The Guardian and has received multiple awards for its groundbreaking work.`